DenTrust Plus: Coconut Oil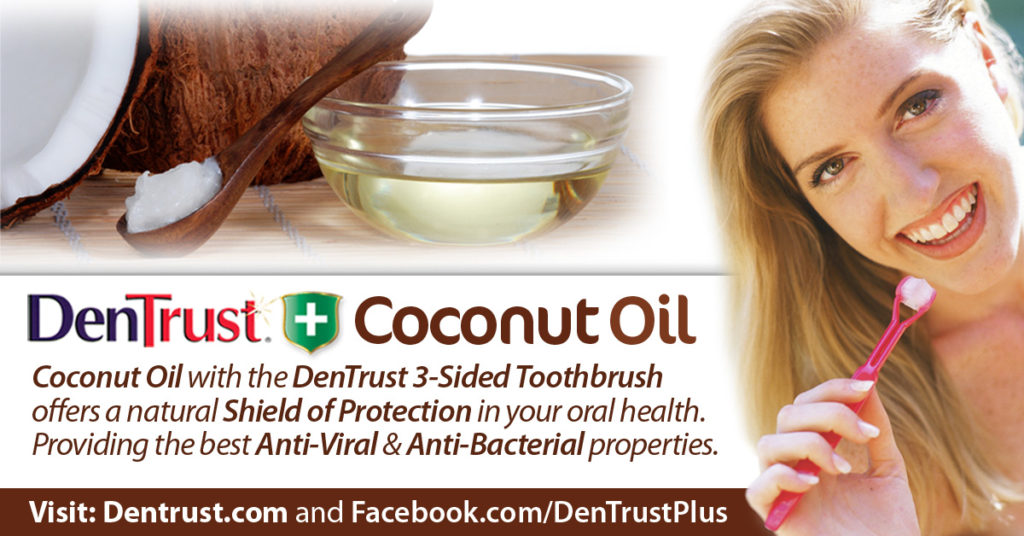 Coconut oil is an edible oil extracted from coconut meat, and is one of the world's richest sources of saturated fat. However, coconut fat is unique because it is made almost entirely of medium-chain triglycerides (MCTs).  MCTs are metabolized differently than the long-chain fatty acids found in most other foods, and have many potential health benefits. Lauric acid is a medium-chain fatty acid that makes up almost 50% of coconut oil. In fact, this oil is the richest source of lauric acid known to man.  Both lauric acid and monolaurin can kill harmful bacteria, fungi and viruses in the in your mouth.
MCT Coconut Oil Can Reduce Plaque and Fight Gum Disease

Gum disease, also known as gingivitis, involves inflammation of the
gums. The main cause of gum disease is the buildup of dental plaque due to harmful bacteria in the mouth.  Current research shows that coconut oil can decrease plaque buildup on your teeth and fight gum disease. In one study, coconut oil significantly decreased plaque buildup and signs of gingivitis in 60 participants with plaque-induced gum disease.
What's more, a significant decrease in plaque was noticed after just 7 days of oil-pulling, and plaque continued to decrease over the 30-day study period. After 30 days, the average plaque score decreased by 68% and the average gingivitis score decreased by 56%. This is a major decrease in both plaque and gum inflammation.