DenTrust Plus: The Dirt Toothpaste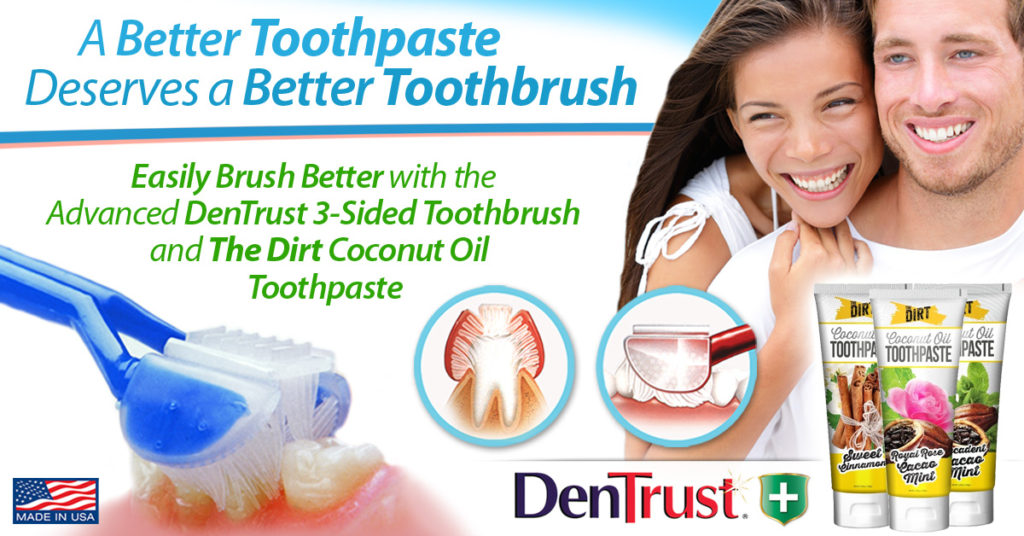 The Future of Toothpaste you'll go cocoNUTS for!
Our all-natural toothpaste combines the antibacterial properties of MCT oil (fractionated coconut oil) with the natural detoxifying and cleansing benefits of bentonite clay, which is firm enough to remove plaque from your teeth, but soft enough not to damage your enamel. To boot, the food-grade essential oils we include not only impart great flavor, but also provide antiseptic and antibacterial benefits. Our Coconut Toothpaste is fluoride, SLS, paraben and glycerine free, our stuff is all-killer-no-filler – so you'll only need a 'split pea' amount for each use!
Key Benefits:

Four, awesome not overwhelming flavors
Three sizes to choose from
100% Natural Ingredients
Fluoride free
A little goes a long way! Up to 6 months of servings in one large tube.
Tastes great naturally (no GMO-derived Xylitol)
No corn, soy or gluten
Rose Cacao Mint
Fancy a face full of flavor so certainly wonderful your love will never waver? Our Rose Cacao Mint is the perfect match for you. Its delicate balance of chocolate mint and sweet rose will have you exclaiming too! "It's like a wedding party in your mouth," one taste tester proclaimed, while another said memories of french pastries are what remained in her mind as she brushed after dinner. Our Rose Cacao Mint is certainly a winner.
Sweet Cinnamon
Cinnamon! They cried, as we asked them a favor, what flavor should we add? Can you go ask your neighbor? Not to hot, but still spicy like your favorite gum. Nice and sweet, satisfying and familiar like those rolls made by your mum.

Cacao Mint
Mint is great but could things be better? "You betcha!" our flavor wizard said, "follow this recipe to the letter!" A pinch of mint, then a dab of rich chocolate, a sprinkle of sweetness and it looks like we got it.
Super Mint
"Minty fresh breath!" Our customers exclaim: "It's old school and normal, some may say tame. But we love mint, with which one can't go wrong. Pretty please oh dear Dirt, answer our minty request song!" So we roused our flavor sorceress and gave her your request. "A blend of three mints! And a touch of sweetness is best!" She exclaimed while shuffling through her essential oils. "One for freshness, one for sweetness, none of those bitter basic oils!" So she worked and she worked, mixing all through the night, until she came up with Super Mint – it's a toothpaste delight!