Free Scrub Brush with Purchase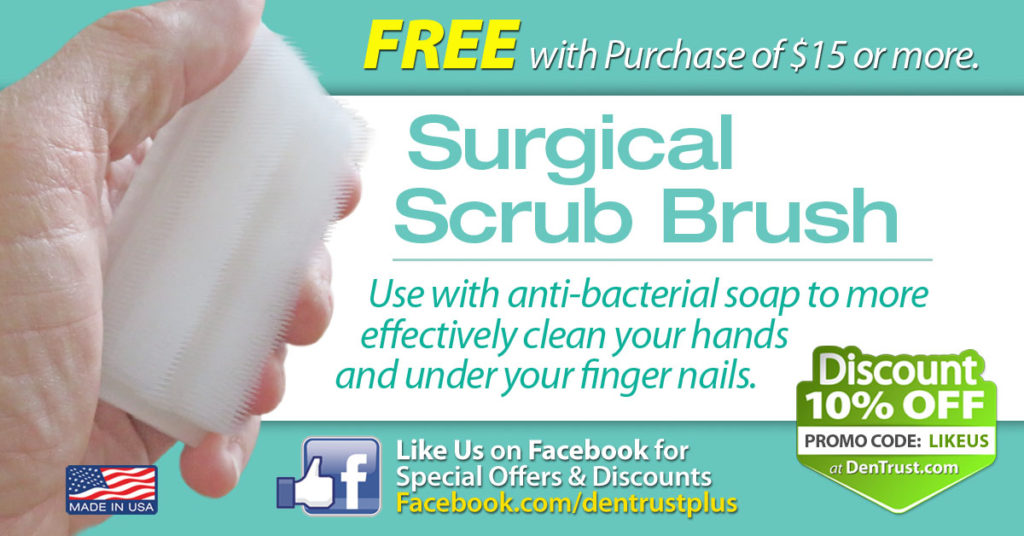 Get 10% Off and a FREE Surgical Scrub Brush on orders of $15 or more when you "Like Us" on Facebook.  More effectively clean your hands and under nails when a thorough clean is more important that ever.

ENTER CODE: "LIKEUS" when purchasing at Dentrust.com
The DenTrust 3-Sided Toothbrush is the fastest and easiest way to complete dental care for the Whole Family, offering benefits far beyond the limitations of ordinary toothbrushes. The advanced wrap-around design quickly and easily removes more plaque, even in the hardest to reach areas. The unique design automatically provides the recommended technique for maximum cleaning of plaque at the gumline which can lead to early gum disease. With our innovative ULTRALON Bristles, you can be assured of gentle care on delicate gum tissue.

Fast, Easy & More Effective
The whole family can benefit from DenTrust. Children who may not be spending enough time brushing will find it fun to brush, and easily get the best results. A 3-sided design provides complete coverage with one easy back-and-forth stroke. Effortlessly removing more plaque, even from hard to reach tooth surfaces. Expansion pleats automatically adjust to all tooth widths.
Clinically Proven Three-Sided Design
DenTrust is Clinically Proven to significantly reduce both plaque and gingivitis in 90 day studies. Proving consistently lower plaque levels in hard-to-reach areas. After 2-weeks DenTrust was shown to be significantly more effective in reducing gingivitis even in the difficult to reach areas. Plus, DenTrust has been clinically proven for children with Braces.